Cookie Cakes
Yes, we make some of the most DELICIOUS cookie cakes you have ever tasted!  
Chubby Deckers
These amazing creations are made from 2 of our freshly baked cookies (your choice of cookie flavor) sandwiched around our handmade butter cream icing, Or, your choice of hand scooped ice cream!
Ice Cream
We offer a variety of flavors of deliciously smooth, creamy, premium ice cream.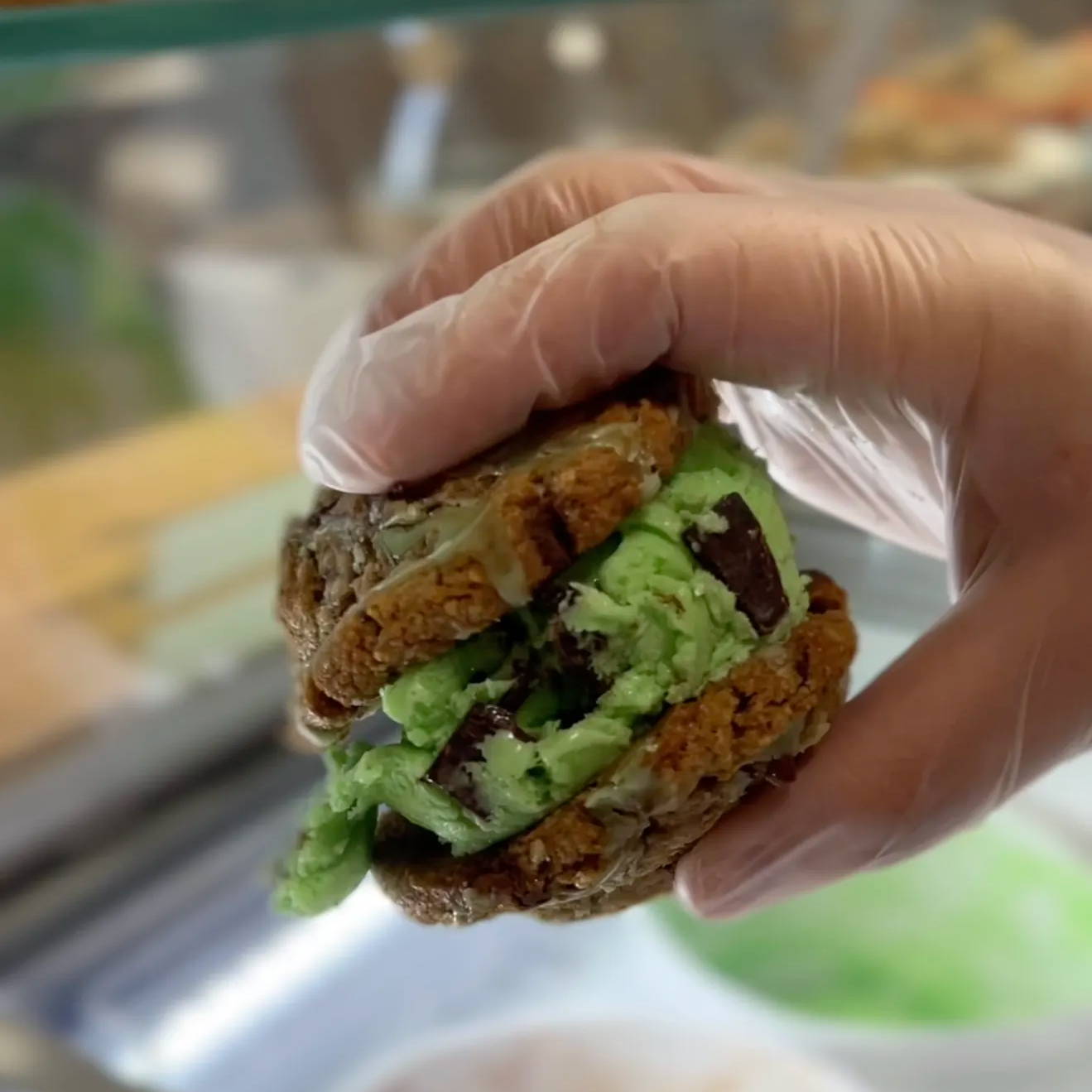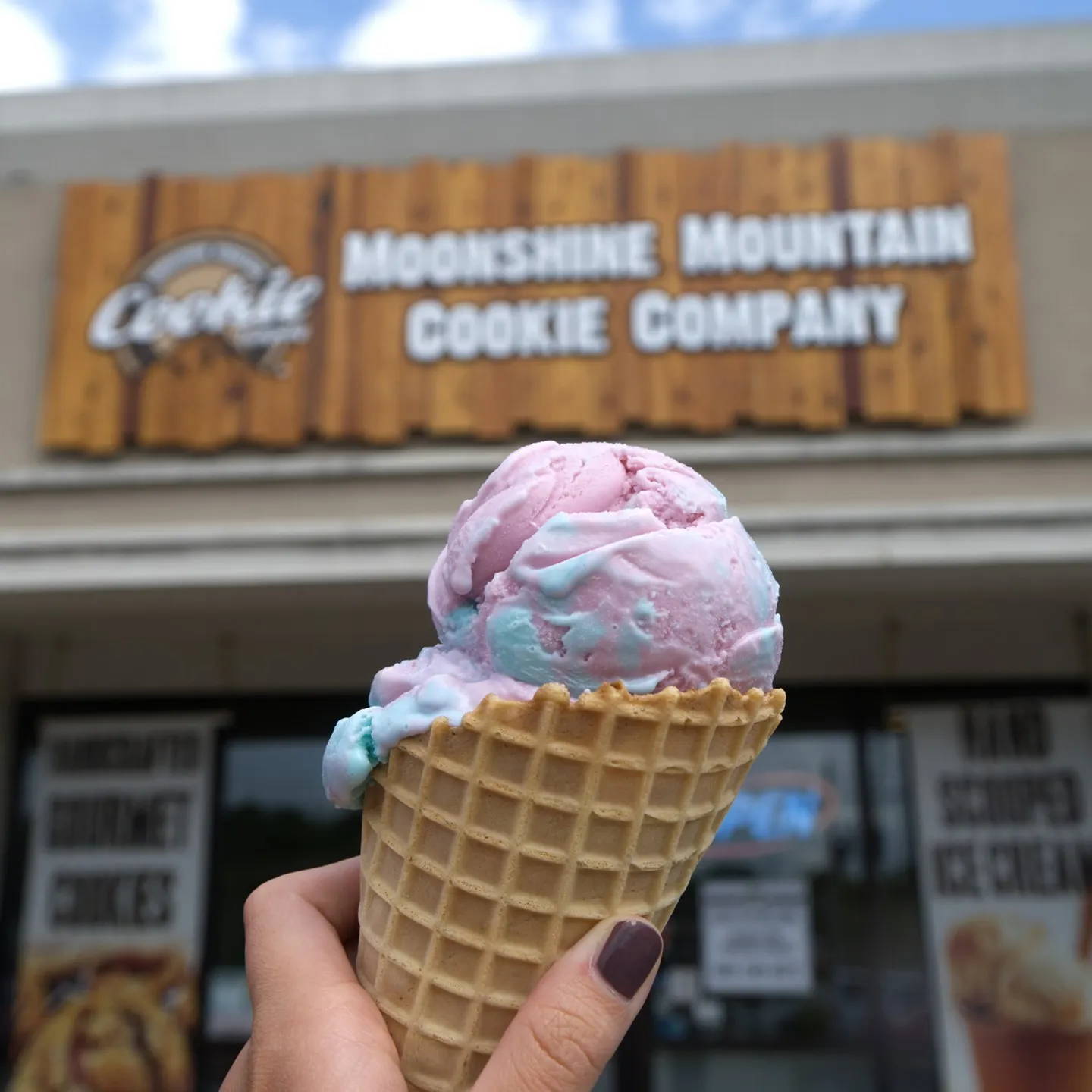 • Your choice of one of our unique cookie dough flavors (you can even do 1/2 & 1/2 flavors) Even Gluten Free is available if desired. (Additional charge for GF)
• Handmade, yummy butter cream icing in various colors decorates the cake. Message on cake needs to be limited in words in order to fit on the cake. Some basic art may be added if requested (Additional charge may apply)
• Chubby Decker with Butter Cream Icing: $5.49
• Chubby Decker with scoop of Ice Cream: $6.99
• Single Scoop in a Cup: $3.49
• Double Scoop in a Cup: $4.99
• Waffle Cone: +$1
• Pint-to-go container: $5.99
Check Out Our In-Store Menu!
COOKIES:
$2.50 each.  
Gluten Free Options: $3.50 each (Rocky Top - Chocolate Chip &   Nutty Butty Holly - Chocolate Peanut Butter).  Must order GF cookies 1 hour in advance.
Carry Out Specials: Buy any 6 cookies and receive 1 additional cookie FREE.   Buy any 12 cookies and receive 2 additional cookies FREE. (Excludes GF cookies).
Individually wrapped cookies in bulk: Ask store manager
FLAVORS: 
Starting Lineup:
Rocky Top (Chocolate Chip) • Caramel By The Sea (Sea Salted Caramel Toffee) • Nutty Butty Holly (Chocolate Peanut Butter) • Happy Pappy (Apple Pie Moonshine) • Berry White (White Chocolate Strawberry) • John Lemon (Lemon Blueberry) • Sugar Shine (White Chocolate Sugar) • Choco Khan (Quadruple Chocolate)
Rotating Seasonal Favorites:
• Dolly Doodle (Snickerdoodle) • M&M Cookie (Chocolate Chip with real M&M's added) • Peachy Wonder (Peach Cobbler) • Raisin Cane (Oatmeal Raisin) • Christmas Magic (Cran/Orange Walnut) • Mint Jagger (Andes Mint Toffee) • Fall & Oats (Pumpkin Pecan Spice) • Cherry Seinfeld (Dark chocolate cherry)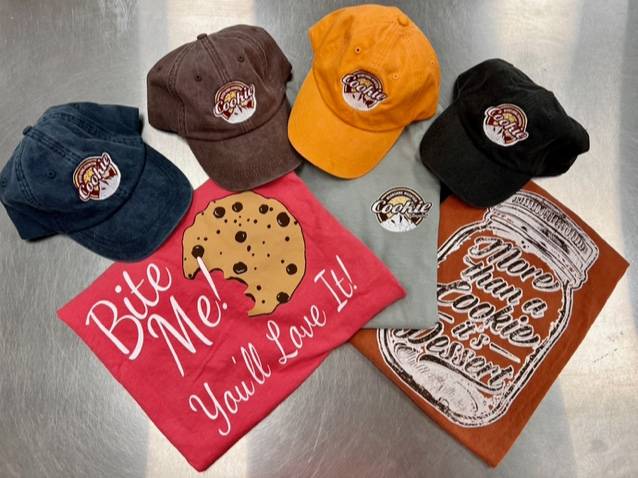 We have a couple different designs of t-shirts, sweat shirts & caps to help you show your support for our company and to show the world who has the best cookies ever!
High quality garments from Comfort Color brand:
T-Shirts: M/L/XL $18
T-Shirts (long sleeve): M/L/XL $24
Sweat Shirts: $40
Ball Cap: $20
We can ship as well, but you will need to call us to place an order since we do not have merchandise added to our online shopping cart at this time.
Find these and More At Our Store Locations!
Address: 7343 Kingston Pike, Knoxville, TN 37919
Just east of West Town Mall near Mooyah's
Phone: 865-240-4972
Address: 10205 Kingston Pike, Knoxville, TN 37922
Across from Ft. Sanders West, next to FedEx
Phone: 865-357-5722
✕